Virus, vaccines and ventilators: Reflections of a pandemic fellow
"Can we not talk about COVID-19?" asked my friend, interrupting me mid-sentence as I tried to convince him to take the COVID-19 vaccine.
My friend, a well-educated, financially secure and reasonable person, shared with me that, like him, many of his colleagues were not planning to get vaccinated. They intended to "ride out the pandemic." Clearly, we were living in two different worlds.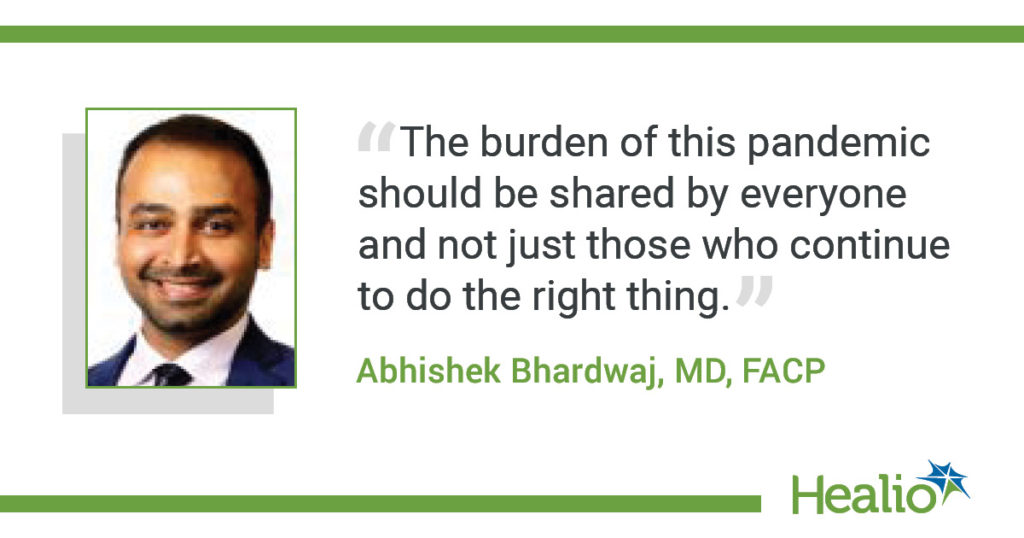 My thoughts drifted to the ICU, where I was working shortly before this conversation. I thought of the previously healthy patient who was in our ICU for weeks on a ventilator because of COVID-19. He was dying due to severe lung fibrosis and multi-organ failure, alone and far from his family. Just before my shift was about to end, his heart rate and blood pressure started to drop. We wanted to make sure that the patient would pass with dignity, without pain, without suffering and in the company of his loved ones. But this was not possible: His family was far away in another country. Although we had been preparing patient's daughter for this inevitable moment, when I video-conferenced her and told her that it was time, the brief silence in the room gave way to the screams and wails of an inconsolable and helpless daughter thousands of miles away from her dad. Over the next few minutes, she brought the patient's grandchildren on the screen and allowed them to see him one last time and to say their goodbyes. Soon after, he died.
No one in the room was talking and we could not look at each other because we knew if we made eye contact, we would see tears in every single person's eyes. We were all together in that moment of death. Unfortunately, we have witnessed the same scenario several times in the last 18 months; this was our reality of the pandemic.
"How can they develop a vaccine so fast? It is not FDA-approved. We don't know the long-term side effects of the vaccine." Focusing my thoughts back on my friend's concerns, I told him that it was important for me to talk to him about the COVID-19 vaccine because I knew what was at stake for him. Over the next hour, I answered his questions patiently. I was able to convince him to get the vaccine. The next day, he texted me that his entire family got the first shot. It was a huge win, for me. The feeling of providing correct information that leads to meaningful action was priceless, but transient.
Over the last several weeks, I have seen many unvaccinated patients in my clinic. For some, the decision was political, for others it was religious, for many it was lack of reliable sources of information, and for few it was just "not worth it" because they were young and healthy. These patients, their families and extended family members were unvaccinated. Although I spent a significant amount of time discussing hesitation and concerns on several occasions, I felt defeated when they chose not to take the vaccine despite all the explanation. I knew all these patients were victims of misinformation. Their pandemic reality was different than many of us serving as front-line health care professionals.
Last weekend, I spent hours in a young patient's ICU room in full personal protective equipment gear. The patient was transferred to our hospital from another city for extracorporeal membrane oxygenation consideration due to respiratory failure from COVID-19. Like many of the patients in our ICU these days, this patient, and his entire family, was also unvaccinated. I felt sad for this patient. I remember hearing, "It is not that bad for young people," a few weeks prior from one of my patients in her 30s. Perhaps, it is because people outside the field of medicine are shielded from the trauma of seeing death and disability from any disease; health care professionals, on the other hand, are drained in this pandemic — both emotionally and physically.
My recent encounters with patients, friends and colleagues highlighted for me that vaccine hesitancy runs deep and cuts across state lines, political affiliations, religious, socioeconomic status and educational status. As a result, we are now caring for younger patients in ICUs. We are seeing the highest number of cases among children since the beginning of the pandemic. Several parts of the country are out of ICU beds again and we are talking about ventilator triaging again. What really concerns me is that as more unvaccinated patients with COVID-19 disease fill up the hospitals, the morale of the health care workers will continue to go down because, unlike last time, this surge was entirely preventable with vaccination.
Like many, I am tired of seeing rampant misinformation and vaccine hesitation. I do not have the energy to watch pundits on news channels debating masks, vaccines and social distancing at this stage of the pandemic. I do not have the will to respond to ill-informed tweets and anti-vaccination and anti-science social media posts. I am angry at health care professionals who should be leading by example by getting vaccinated but, instead, are part of the anti-vaccination brigade. I am also very upset about the inequity of vaccine distribution where millions of vaccine doses have been wasted in the United States while the rest of the world continues to wait helplessly. Thousands of lives could have been saved in Asia, Africa and South America from those wasted doses. It is truly a first-world problem to have access to a lifesaving intervention yet choosing to refuse it.
For those of us who have cared for sick patients with COVID-19, it is natural to be frustrated with society in general, for not sharing the responsibility to end the pandemic by means of vaccination, masking and social distancing and for carrying out "business as usual." But when it comes to individual patients, we are aware that our duty to care for the sick rises above everything else.
Throughout the pandemic, health care professionals all over the United States and the world have gone above and beyond to care for patients with COVID-19. As the pandemic surged from one state to another and from one country to another, we supported each other. We risked our lives when the pandemic had no end in sight and when we had no way to protect ourselves or our families. When the world needed us, we held our ground with only a mask between us and catching the disease. Day after day, months after months we showed up to work because many of us believed that this was our calling, this is what we had always prepared for — caring for every life, no matter the circumstances.
It has been 18 months and those sentiments and principles are still driving most of us to keep on going. But we are tired now. The burden of this pandemic should be shared by everyone and not just those who continue to do the right thing. Maybe we will learn our lesson from this fourth wave in the United States that vaccination is our only way out of this pandemic. But again, I am not very hopeful.
In the meantime, we will make conscious efforts to make sure that we never compromise the care of patients who were misinformed and made the wrong decision to choose to stay unvaccinated. It is now more important than ever to be extra kind to each other in the health care system, to lean on to other health care professionals who have experienced this shared trauma because only then can we replenish our stores of compassion and kindness to care for patients with empathy that they truly deserve — irrespective of their vaccination status.
Nota original: Healio https://www.healio.com/news/pulmonology/20210928/virus-vaccines-and-ventilators-reflections-of-a-pandemic-fellow?utm_source=selligent&utm_medium=email&utm_campaign=news&M_BT=81331696484